Kidini Karate Bully Prevention Child Safety
Developmentally Appropriate Curriculum For Children, Ages 2 To 8 Years Old.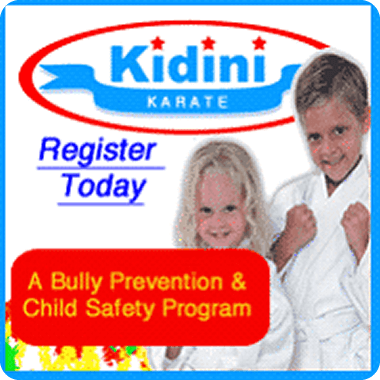 45 minute to 1 hour Assembly, 4-class and 8 class sessions (can vary by location) Weekly 30-minute class (can vary by location) with the Kidini Certificate. A set of At Home Materials that includes activity Kidini pages and the availability of the Kidini Book and Music CD.
Register Today!
Lesson
Bully Prevention Respect & Empathy for others
Who to trust & Do not fall for tricks from tricky people
Keeping a safe distance as big as a Dinosaur
When its time to move, do Low & Go to get away
When to yell , make a scene & stay silent
Educated Running & Stay where you can be seen
Know the Safe Zones & Where to go for help
Never Give Up, Never Give In & Twist to get away
Character Aid
Penney the Penguin

Eyezic the Owl

Kidini Dinosaur

Leaper the Frog

Alli the Alligator

Pinchi the Crab

Arman the Octopus

Twister the Tornado
Teaching Children Self Protective Skills The Kidini Karate curriculum emphasizes awareness, avoid and escape from danger skills as well as character development.